INTERIOR & EXTERIOR PAINT
When it comes to premium paints and stains for your home, Benjamin Moore have set the standard for excellence. Paired with an incomparable selection of authentic colors, Benjamin Moore products are formulated to help you achieve beautiful, lasting results every time you paint.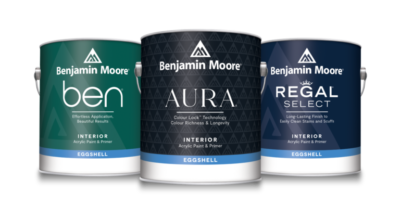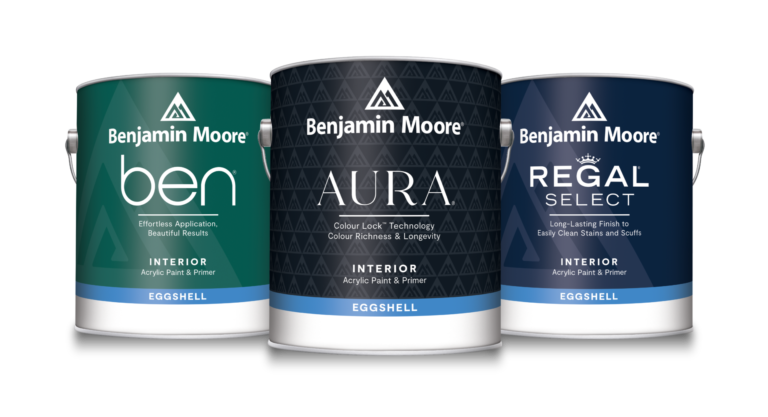 Fusion™ has taken over 10 years to develop, test and refine, and their hard work has truly paid off. Fusion's™ results are nothing less than spectacular, providing furniture painters a best-in-class paint that features; an environmentally conscious formulation, zero VOCs, superior durability, easy one-step application and significantly improved strength. Delivering an exceptional matte finish, this 100% acrylic paint requires minimal prep work!
WALL COVERINGS
Make a bold statement or add a subtle texture. Wallpaper is a perfect way to express your style and infuse personality into a room. Whether you know exactly what you want, or if you are not quite sure yet, our extensive selection of wallcoverinngs are certain to guide your decision. Styles from large-scale patterns with dramatic colours. to traditional, or fun and bright, through to simple patterns, our selection provides options! If you need a little help just ask our inhouse stylists. Whether you are a seasoned veteran of design or if this is your first experience, you will find the perfect wallcovering for your space.

WINDOW COVERINGS
Decorating Ideas is a full line dealer of Hunter Douglas window coverings.
Window treatments are a critical element of your design, but it also is an important functional element. Do you have large windows that need a simple elegant solution that doesn't block your views, or do you have a series of windows that require a tasteful -but still practical, solution? No matter what your needs are, our design team at Decorating Ideas can help you choose the perfect product from our large selection of blinds and draperies.


PAINT & PAPER
From our high-quality ingredients to our artisanal methods, Farrow & Ball creates a 100% water-based range of deeper, richer paint colors with an extraordinary response to light.
Water-based Coatings
From water-based paint and primer to water-based topcoat, sealer, stain, and glaze, no company does water-based coating like Renner Italia™.
DECORATING CONSULTATIONS
Acheiveing that 'magazine look' isn't as easy as TV makes it seem. Let our team of design experts help you achieve the perfect look to reflect your personal style. From selecting colours, wallcoverings and window treatments through to choosing the perfect accessories to embellish your decor our consultatants make this otherwise daunting task delightful!