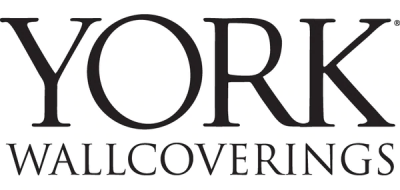 York Wallcovering is rich in heritage and has embraced new printing technologies since opening its doors, but the pride and craftsmanship that existed over the past century still endures throughout our historic company today, ensuring authenticity of style and the highest quality of manufacture.
York is one of the only printing companies in the world to own and operate five different types of printing presses – from rare turn of the century presses to modern digital applications; each type giving a distinctive look to the finished product. Maintaining these presses and the craft of using them is held in the highest regard by all at York.
York wallcoverings carries all your favorite designers such as Joanna Gaines, Sarah Richardson, Scott Living, Candice Olsen and The Rifle Company.

Brewster Home Fashion's is a 5th generation family-owned home decor company founded in 1935.
We opened our first office as a US regional distributor of wallpaper. Our roots are in traditional wallcoverings, but in the past decade, we've evolved into a home décor brand covering wall art, home accessories, flooring, small furniture, and more. With a team of experienced in-house designers, and offices on three continents, we are equipped for producing fresh and original products for worldwide distribution to both residential and commercial markets.
Our company's core values encompass quality, style, innovation, and to exceed expectations for our customers.
Our advantage line is an amazing wallpaper with an excellent price point!

Crown Surface Solutions is a proudly Canadian distributor sourcing innovative, architectural surface solutions that use colour, design and texture to help you truly realize your design vision and brand image. Crown Surface Solutions will also help you to improve acoustics and lower maintenance costs by protecting your walls.
Crown Surface Solutions is an agile and adaptive company that anticipates market trends and helps you remain at the forefront of both design and functionality. You will receive superior, personalized service at every point of contact with expert knowledge and guidance along every step of your project.
Since its founding more than 80 years ago, Crown Surface Solutions has been owned by the same family and is currently under the third generation of leaders. Over this time, Crown Surface Solutions has evolved from its retail wallpaper roots to today's focus on interior architectural products supporting both the contract and residential design industries with sales representation across Canada.
In-Home Consultations
Let our team of design experts help you to create your perfect space. Consultations include colour selections, window fashions, wallcoverings and even picking those critical coordinating accessories.